It's aBOUT OUR journey home
Our leadership challenge starts within. It's about making sense of who we are, beneath the layers of social attributes such as power, money and fame.
The journey home starts when we realise that we have the power to shape our life towards greater happiness and fulfilment.
When we gradually stop reacting to the outside world, but rather respond to the outside world grounded in what's meaningful to us.
It's the journey home to who we truly are, guided by a deepening sense of self.

A more highly developed sense of self, enables you to connect and engage with greater presence, and with greater presence comes greater impact.
I'm on this journey and I invite you to join me. The inner journey is far more rewarding than any worldly journey, and it lasts a life time.
Coaching experience working with executives and entrepreneurs
Experienced facilitator of premium leadership transformation programs in partnership with Oxford Leadership
15+ years in corporate working with Cisco, Telefonica, Juniper and IBM
Co-founded, built and sold company in IT Service Management
Extensive international experience living abroad 20+ years
Certified by International Coach Federation, ICF
Certified on the 360 tool The Leadership Circle Profile
Certified on Harthill's Leadership Development Framework
I help leaders maximise their impact
As an executive coach, focused on self-leadership and developmental coaching, I help leaders explore and deal with the tension between purpose and safety, to surface, explore, and shift the beliefs, values, and fears that consciously and sub-consciously guide how we perceive ourselves and how we interact with the world.
As you ground yourself in your self you develop greater presence and with greater presence comes greater impact.
I help leaders align culture and people to strategy
Aligning people to strategy is about engaging in authentic conversations about purpose, vision and values.
To help people connect their personal purpose to that of the organisation.
Secondly, to share a vision of the future so compelling people want to be a part of the journey.
Thirdly, it's about the values, i.e. the behaviours that will get you to the vision.
The sum of behaviours is culture and culture is the third pillar of business performance, but very different than the other two pillars: strategy and operating model.
You can't drive culture change as it's intrinsic and sticky by nature but you can nudge culture by role modelling, support others to role model and gradually shift structures and processes to support the desired behaviours of "how things are done here".
Strategy and Sales Management in the IT industry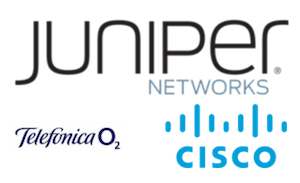 I have +15 years in large international IT and telco companies. My last corporate position was to manage Juniper Networks' alliance with IBM in the Nordics, Central & Eastern Europe and in the Middle East.
I enjoyed this as it was strategic work helping both Juniper and IBM colleagues, from client facing to executives, to multiply our joint opportunity.
The key challenge was to create a desire to break out of the habitual choices of sales approaches, solutions and partners and demonstrate our unparalleled customer value-add when we went as one team.
Before Juniper Networks I worked with strategy for Telefonica Czech Republic and sales for Cisco Systems.
What happens when purpose drives you?
I'm one of 22 authors that in January 2020 published a book on the topic of purpose and how decisions shaped our journey towards purpose. The book is an evidence-based approach to what a transformational journey may be like.
It's 22 authentic and bold stories, some you may relate to while others you may not. Perhaps some of the stories will inspire you to reflect in ways that are surprising. It's all welcomed because our intention was to move you through the sharing of our individual personal stories – regardless of the direction it takes you.